So here I am sitting on my ass in my new flat browsing Current TVand I stumble on a rather nice piece on a London based custom tshirt company called Tshirt Patisserie. Basically you make a custom Tshirt in your design using the tools provided and they post it in a striking gift box...along with a cake! Perfect for those special pressies! Then you can either choose to deliver or pick up the custom tshirt from the store on brick lane.
On the 19th September, on a school night, in a little pub near the all so trendy area of Hoxton/Shoreditch in East london, it was the first Delete Yourself and Handheld night. The night was co-hosted by Ste from the One Life Left and was presented as a night of...
Handheld videogames, multiplayer madness and sweet, sweet game-related music to the backdrop of DY's anti-traditional nu-future night.
And it certainly was that! A nice mixture of DS's and PSP's was on display through out within the rather charming pub, The Macbeth. Our group arrived fairly early before the intended time of 9pm to do some warming up before hand. The real party kicked off closer to 10pm when the 10 player bomberman kicked in on the projector. As one would hope, it was mayhem! There is just something about playng bomberman with a bunch of people. Ofcourse the DS players were near the pool table at the back of the pub enjoying some rather loud games of tetris and mario kart as well. Gotta love it!
There was also much merriment of chit chatter between a whole host of different characters with different interests in gaming including a Phd student in games of some sort (hi allie!), a Gamestation store manager (hey Daniel!) along with his posse and the famous DS:London gang (I know, I know...shameless plug). Discussuing the real important subjects to a gamers heart including how best to squeeze in Halo 3 on release next weekend (drink, drugs, pulling sickies or all?), Mario Galaxy - all hype?, gaming music one should have on their Ipod, 2nd life - easier to make money in then real life? and as well lots of other things that would take longer then my attention span can handle to write about.
All in all, a damn great night and round of applause for the organisers. Can't wait for the next one!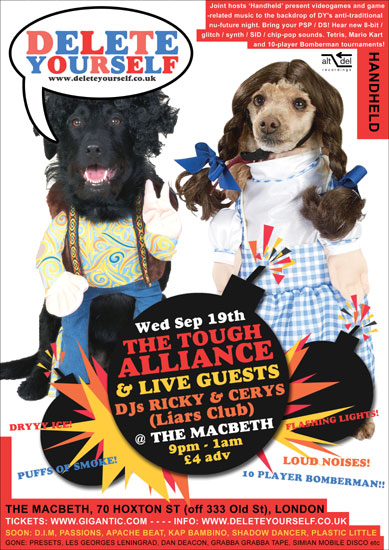 PS it would have been a better night if it wasn't for the fact my camera's memory card corrupted and I lost ALL my pictures I took!!!! Not happy joey at all
(
I have just read some bad news
I have never been much of a sports person, but would just wanted to dedicated this post to the great rally driver, Colin Mcrae. Over the weekend he, his son and 2 friends crashed in his helicopter returning to his home. A tragic accident by all accounts and my thoughts go to the family.
Bit lacking on what to blog about today. So I decided to pick some random photos from Flickr.
Hong Kong temple
When I was on a biz trip in Hong Kong, I stumbled upon a couple of temples in Central, one of which is the following of Man Mo Temple.


Another Hong Kong Temple
Another one was the Tin hau temple, dedicated to the Goddess of the Sea.


Every once in a while, just when I pull some decent beats on level 5 of Tetris on the DS. I find people like the following....
If you get bored at the beginning, check out the last quarter of the clip.
The other day I was at the very excellent Big Chill House to see a simply amazing one man band, Son of Dave! Simply put, imagine having a guy who uses a bit of recorded human beat box on the go singing the blues whilst playingthe harmonica and stamping his foot alot. Sounds chaotic and it seems to be but just simply put, amazing. Check out the 6min documentary about the guy in this youtube video else just check him about below. Bloody good stuff!
I was sitting in the pub with a fellow geeky friend, Dave Knipik, and he was explaining how he would like to use a photo of mine on Flickr in a Londonist blog which I was delighted! I never had a photo used in some piece of work before, it was all very exciting. We then went onto a discussion of public usage of photos online which then stumbled upon the Creative Commons license. Essentially it is a set of licenses with various levels of restrictions that a person may choose to place on their work to protect it.
There are many licnese are available and I chose to have:
Attribution - All works need to have credit back to me, so all photos taken from my Flickr gallery needs to have a link back with some love/respect thrown in
NonCommercial - No you can;t make money off me....except if you pay me!
NoDerivs - No work can be derived from photo, so no hacking it apart
On Flickr you can access this by:
- You->Your Account
- Privacy & Permissions tab
- Clikc on "edit" of What license will your photos have
Dave also kindly pointed out that there were many people out there who hunt for stuff under the creative commons license. So if you fancy having more of your Flickr stuff in the world of work. Go for it!
It was once said that great wisdom can be found in a few short sentences, well this aren't particularly great but has a little bit of humorous insight into the the next gen consoles. Brilliant.


Yesterday was the first meet up of the London Blog Drink in a cozy pub called the Prince Regent on Glouster Road. I got there fairly on time with the intention of being able to spot out the bloggers from the crowd. Turned out to be a bit more difficult at first. But it transpired that the first couple of people passed by each other until the hostess, Sandrine, came in to draw the crowd together of initially three which gradually built up to a a total of over a dozen odd peeps.
The night turned out to be a real blast with a mix bag of people, though quite a large amount of the French contingent! Blogging about various subjects from architecture, foreign perceptions of us Brits, Web 2.0/social media etc. Had a good old chin wag with a nice fella, Peter, on Ruby then attempting to convert with Sanderine/Peter on the merits of the Nintendo DS, LinkedIn, traveling in asia, the uptake of the new net age in France plus ermm...much more. The Erdinger had something to do with the memory, I forget what. However I do remember being the first outing of my moo cards and handled out a few. Gosh darn, they are cool little critters.
Anyways, can't wait for the next one scheduled sometime in October. Check out http://upcoming.yahoo.com/ for the news.
Oh me gawed! if there was ever a cooler thing then a REAL life transforming cosplay thing, then I obviously had not seen it yet
Currently listening to: a chill out album, Suela (Lo Fi Mix)-In Credo